Updated January 25
Home Page:
March Speaker
Dr. Indu Gambhir
Doctors Without Borders

Social Page:
April 23, The Mousetrap
(First notice)

Updated January 19
Home Page:
February Speaker
Rachael Jones - Details added

Updated January 14
Join/Renew page:
Payment methods added
Membership form updated
Renewal form added

Updated January 12
Social page:
Painting with Grace
March 3rd

The Tulip page:
January issue posted

Updated January 5
Social page:
Ford Innovation Centre
February 16th
Photo added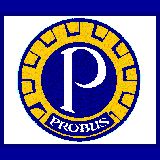 Home Page
The Tulip
The Social
Management Committee
What is Probus?
Past Speakers
Join/Renew
Constitution
Job Descriptions
20 Years
Local Clubs
Spring Fling
Links

club no. 101 chartered with probus canada
Probus Club of Ottawa Alta Vista
sponsored by the rotary club of ottawa


February 22nd, Rachael Jones
Waste Management Plan for Ottawa




Rachael Jones has worked in solid waste management for more than 10 years, including 7 years experience working in this sector within a municipality in Metro Vancouver. Her experience in solid waste management is broad; from developing and implementing new policies and programs in support of waste reduction and diversion efforts to managing both collection and processing contracts.

As a Project Manager in Solid Waste Services at the City of Ottawa she transitioned to focusing on longer-term waste management planning. She is currently the Project Manager for the City of Ottawa's 30-year Solid Waste Master Plan that is currently being developed and, while being the technical lead for the project, she is also very involved in designing and delivering the public engagement strategy for the project and ensuring community feedback informs development of the plan.



March 22nd, Dr Indu Gambhir
Doctors Without Borders




Dr. Gambhir will give us an insight into the work done by Doctors Without Borders in places where there is little or no organized health care and where there is the ever-present danger of finding oneself in the middle of a war zone. This is Sudan.
Work means dealing with infectious diseases such as tuberculosis, sleeping sickness and HIV/AIDS and at the same time meeting the challenge of providing general health information to the population.

---




Check out "The Social" page for other activities - walks, visits, etc.


---





---




Johnson Insurance

We have added a link to the Johnson Insurance web site (see "Links" page).
Johnson provides competitive rates for Probus members for all kinds of insurance, particularly travel insurance.
---
Guests and Visitors from other Clubs are welcome.

We are a 'Combined' Club. We meet on the 4th Wednesday of the month (except December - 2nd Wednesday). Meetings begin at 10:00 with a few minutes of announcements and then a speaker. Members start to arrive about 9:30 for coffee, cookies and chat (tea, Tim-bits and talk).




Meetings are at:

Gloucester Presbyterian Church
91 Pike Street
Ottawa K1T 3J6


Pike Street runs north from Hunt Club just west of Conroy. The church is at the corner of Lorry Greenberg and Pike. The parking lot entrance is off Pike.

PROBUS' Vital Purpose

... to stimulate thought, interest and participation in activities at a time in life when it is easy to become complacent and self-centred.






Copyright Probus Alta Vista (2011 to 2022)
Site development by SoftWright Inc.