Updated March 25
Home Page:
May Speaker, Reneé Davis
Ottawa Riverkeeper

Social Page:
April 19th Walk
Beryl Gaffney Park

Updated March 16
The Tulip Page:
March issue posted

Updated February 28
Home Page:
April Speaker, Esther Becker
Osteoporosis Canada

Updated February 17
Social Page:
April 23, The Mousetrap ...
... and dinner (cheese?)
Dinner reservations open

Updated January 14
Join/Renew page:
Payment methods added
Membership form updated
Renewal form added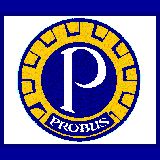 Home Page
The Tulip
The Social
Management Committee
What is Probus?
Past Speakers
Join/Renew
Constitution
Job Descriptions
20 Years
Local Clubs
Spring Fling
Links

club no. 101 chartered with probus canada
Probus Club of Ottawa Alta Vista
sponsored by the rotary club of ottawa

SPEAKERS


April 26th, Esther Becker
Osteoporosis & Bone Health




Esther is a volunteer presenter with Osteoporosis Canada. Diagnosed with osteoporosis 20 years ago, Esther lives an active life: exercising regularly, enjoying hiking, and kayaking in summer. Osteoporosis has not stopped her from travelling and she particularly loves exploring Canada.

Esther has a Ph.D. in educational psychology. She retired from the public service as a Director at the Office of the Auditor General.

As well as volunteering with Osteoporosis Canada, Esther is a community outreach volunteer with the Ottawa Humane Society.



Through its Outreach Program, Osteoporosis Canada is making contact with more and more Canadians to increase their understanding of bone health and osteoporosis, as well as reaching out to those already diagnosed to help improve the quality of their lives.



May 24th, Reneé Davis
The Ottawa Riverkeeper




When Meredith Brown, Ottawa's first Riverkeeper, spoke to us in September 2006, few in her audience had heard of the position and the work. The organization was formed in 2003, registered as a charity and secured sufficient funding for one full time employee. By 2006 there were 3 staff members and a summer student.

Meredith's talk opened the longest Q & A session we had ever had - a record which stands to this day.

Reneé will bring us up to date on the activities of the Riverkeeper and some of the successes and difficulties the organization has had.

---




Check out "The Social" page for other activities - walks, visits, etc.


---





---




Johnson Insurance

We have added a link to the Johnson Insurance web site (see "Links" page).
Johnson provides competitive rates for Probus members for all kinds of insurance, particularly travel insurance.
---
Guests and Visitors from other Clubs are welcome.

We are a 'Combined' Club. We meet on the 4th Wednesday of the month (except December - 2nd Wednesday). Meetings begin at 10:00 with a few minutes of announcements and then a speaker. Members start to arrive about 9:30 for coffee, cookies and chat (tea, Tim-bits and talk).




Meetings are at:

Gloucester Presbyterian Church
91 Pike Street
Ottawa K1T 3J6


Pike Street runs north from Hunt Club just west of Conroy. The church is at the corner of Lorry Greenberg and Pike. The parking lot entrance is off Pike.

PROBUS' Vital Purpose

... to stimulate thought, interest and participation in activities at a time in life when it is easy to become complacent and self-centred.






Copyright Probus Alta Vista (2011 to 2023)
Site development by SoftWright Inc.